Non-exclusive Geothermal Studies
Bird Geophysical and Earthfield Technology, LLC are pleased to announce joint venture geothermal projects across the U.S. (study area outlines: dashed lines):
Permian Basin
Powder River Basin
Denver-Julesburg Basin
Gulf Coast Region
Great Basin Region
We introduce The Magnetic Layer, which extends from the top of the crystalline crust (or basement) down to the Curie point depth. Curie point is the temperature at which rocks gain or lose magnetism. It generally ranges from 550 to 600°C and in depth it normally tracks the base of the crust (Moho), although it is commonly a little shallower beneath continents and a little deeper beneath oceans.
Download: Bird, D. E., Cathey, W. E., and Dowla, N., 2022, The Magnetic Layer in Powder River and Denver-Julesburg basins: a new crustal temperature constraint for estimating thermal properties in sedimentary basins: American Association of Petroleum Geologists & Society of Exploration Geophysicists, International Meeting for Applied Geoscience & Energy (IMAGE), NEF 2; click here.
The studies make use of Earthfield Technology's high-resolution crystalline basement interpretations. Typical deliverables include:
Open-file stations: Thermal conductivity, heat flow, and heat production.
Temperature horizons: Near surface, basement, and Curie point.
Basin layer: Thermal conductivity, thermal gradient, and heat flow (measured, background, and predicted).
The Magnetic Layer: Thermal conductivity, thermal gradient, heat flow (crystalline crust sources), basement terrane interpretation, heat production, and heat production layer thickness.
These products are input variables for supervised machine learning analyses to predict heat flow and thermal conductivity.
IN PROGRESS: Gulf Coast Basins Geothermal Study
This study area extends south from the Marathon-Balcones-Ouachita-Suwanee Suture zone (black stipple) to the heavy dashed line, and from Texas to Mississippi. Heat flow stations (red dots), residual Bouguer gravity anomalies (colored grid), Proterozoic basement terranes (blue/white polygons), after Whitmeyer and Karlstrom (2007, Geosphere), bathymetry contours (200 and 2500 m bsl), and Sabine Uplift study area (black box, 3D volumes shown above).
West U.S., Great Basin Region, Geothermal Energy Study
Bird Geophysical and Earthfield Technology, LLC have applied their thermal study workflow to a regional area in the western U.S.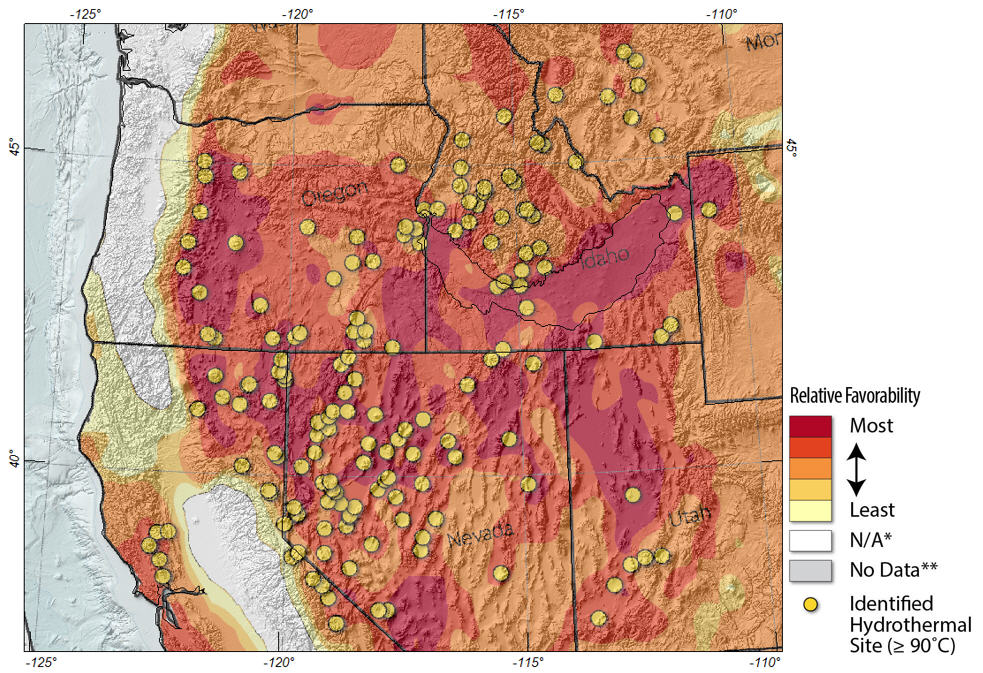 Download: Bird, D. E., Dowla, N., and Cathey, W. E., 2023, Machine learning applications for predicting heat flow and thermal conductivity in northwest U.S.: Transactions, Geothermal Research Council, v. 47; click here.
For details please contact: